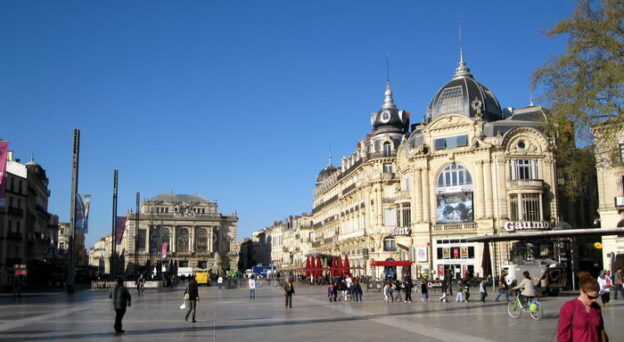 Montpellier is a city in southern France near the Mediterranean Sea. One of the largest urban centres in the region of Occitania, Montpellier is the prefecture of the department of Hérault. In 2018, 290,053 people lived in the city, while its metropolitan area had a population of 787,705. The inhabitants are called Montpelliérains.
In the Middle Ages, Montpellier was an important city of the Crown of Aragon (and was the birthplace of James I), and then of Majorca, before its sale to France in 1349. Established in 1220, the University of Montpellier is one of the oldest universities in the world and oldest medical school still in operation, with notable alumni such as Petrarch, Nostradamus and François Rabelais. Above the medieval city, the ancient citadel of Montpellier is a stronghold built in the seventeenth century by Louis XIII of France.
Since the 1990s, Montpellier has experienced one of the strongest economic and demographic growth in the country. Its urban area has experienced the highest population growth in France since the year 2000. Numbering 70,000, students comprise nearly one-fourth of its population, one of the highest such proportions in Europe. Its living environment with one of Europe's largest pedestrian area, along with its rich cultural life and Mediterranean climate, explain the enthusiasm for the city, which is nicknamed the "Gifted". Montpellier was nominated for "Best Emerging Culture City of the Year 2017" by the think tank LCD. It is ranked as a Sufficiency city by the Globalization and World Cities Research Network. (Source: wikipedia)
مون‌پلیه یا مونپولیه مرکز استان هرو (Hérault) در ناحیه لانگ دوک -روسیون (Languedoc-Roussillon) در جنوب فرانسه واقع است. مونپولیه مرکز لانگدوک روسیون است.
این شهر در ۱۰ کیلومتری دریای مدیترانه قرار دارد.
مونپولیه اقتصادی را بر مبنای فعالیتهای پیشرفته علمی و خدماتی پیرامون شرکتهایی چون IBM و شرکتهای معتبر دیگر مانند HORIBA, دلPalm Computing, Cap Gemini, Alstom, Inforud, Genesys یا PC soft بنیان گذاشته‌است. تخصصهای بسیار دیگری نیز مانند کشاورزی مناطق گرمسیری و مدیترانه‌ای، بهداشت، محیط زیست، فناوری اطلاعات در این شهر گسترش یافته‌است.
موزه آگروپلیس، موزه علم و جامعه، به نوبه خود موضوع کشاورزی و تغذیه را به نمایش می‌گذارد و به گسترش فرهنگ علمی آن می‌پردازد.
فرهنگ اولین جایگاه را در مونپولیه دارد. هنرهای سنتی با فناوری مدرن همراه شده‌اند و کنسرتها، نمایشگاه‌ها، آفرینش‌های نمایشی و جشنواره‌ها در تمام سال حیات فرهنگی شهر را پربارتر می‌سازند.
۶۰٬۰۰۰ دانشجو، ۳ دانشگاه، ۵ مدرسه عالی مهندسی و ده‌ها پژوهشکده در پویایی و کیفیت زندگی این شهر مشارکت دارند. در مونپولیه از هر چهار نفر یک نفر دانشجو است.
آگروپلیس، قطب بین‌المللی تحقیقات و آموزش عالی کشاورزی با بیش از ۲۰۰ واحد و آزمایشگاه، ۳۰۰۰ پژوهشگر، مدرس – پژوهشگر و تکنسین در مونپولیه و حومه آن استقرار دارند. ۶۰۰ دانشمند خارج از فرانسه، در ۶۰ کشور جهان پراکنده‌اند و با آنان همکاری می‌کنند. موضوع این تحقیقات گسترش اقتصادی و اجتماعی مناطق مدیترانه‌ای و گرمسیری است. مون پلیه دارای ۳ دانشگاه است:
دانشگاه مون پلیه ۱ که بیشتر در زمینه‌های حقوق، پزشکی، داروسازی و اقتصاد شناخته شده‌است.
دانشگاه مون پلیه ۲ که به دانشگاه علوم (Fac de Science) معروف است در زمینه‌های علوم و مهندسی (شیمی، فیزیک، بیولوژی، الکترونیک، مکانیک، کامپیوتر و …) بیشتر فعال و شناخته شده‌است.
دانشگاه مون پلیه۳ یا دانشگاه پل والری Université Paul Valéry که به دانشکده زبان (Fac de Lettres)نیز معروف است بیشتر در زمینه زبان و ادبیات و علوم انسانی و هنر فعال و شناخته شده‌است.