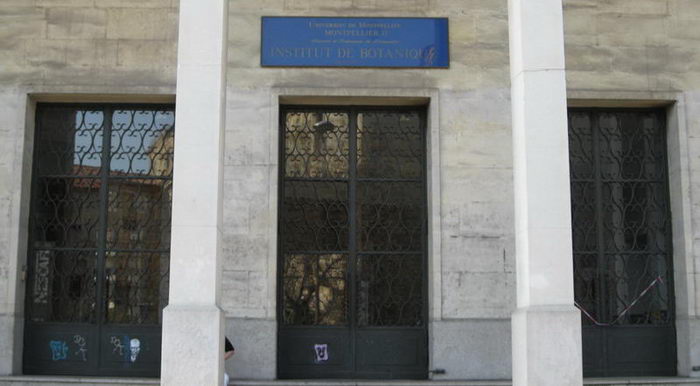 Institut de botanique

The herbarium at the botanical institute (MPU), administered by the Université Montpellier II, holds approximately 4 000 000 specimens on 5554 metres of shelves in a 1600-square-metre six-storey building.

The oldest collections date from the Renaissance period: specimens attributed to Richer de Belleval (who died in 1632), herbarium of P. Chirac (who was a student of Magnol 1638–1715). The herbarium also contains plants collected by Linnaeus's Montpellier contemporaries and correspondents, namely, Boissier de Sauvages, Cusson, and Gouan. The university and its collections suffered during the French Revolution, but at the beginning of the 19th century, A. P. de Candolle, appointed as Professor of Botany at the Faculty of Sciences of Montpellier, started the new herbarium. De Candolle cultivated many exotic species in the botanical garden and the botanists who succeeded him throughout the 19th century (Delile, Dunal, Planchon) gathered plants from all parts of the world, further enriching the collections. Around 1890, Ch. Flahault (1852–1935) united the botanical collections of the three University Faculties (medicine, pharmacology, and sciences) in one place, the then new Institut de Botanique.

Today, the specimens, including vascular and non-vascular plants and fungi, are organised into one general herbarium and about 200 separate collections. MPU is noteworthy for having historical collections, dating from the 18th century, from every continent of the earth, even including Oceania, as well as collections from early circumnavigation journeys.

During its long history, the herbarium has been associated with systematic and floristic research on temperate and tropical vegetation. Although its numerous visitors (researchers, students, and amateur botanists) still include taxonomists, an increasing number of them are those interested in biodiversity conservation issues.
Materials of Special Interest
African Collections: Including specimens from Ethiopia, Madagascar, Mauritius, Morocco, southern Africa, Sudan, and western Africa.

Asian Collections: Including specimens from Afghanistan, China, and India.

South American Collections: Including specimens from Brazil, Chile, Colombia, Ecuador, Mexico, Paraguay, Peru, Uruguay, and Venezuela.

Taxonomic Revision Collections: Including Aristolochiaceae by Duchartre, Solanaceae by Dunal in de Candolle's Prodromus, and Flahault's collection of the Nostocaceae heterocysteae. All these collections contain uncounted type-specimens as most types on our shelves are still not recognised as such.

Art and Manuscripts: Including watercolour drawings of Broussonet's plants; Delile's manuscripts; unpublished drawings of Solanum made for Dunal's publications; manuscripts, drawings, and watercolours by G. Malençon and R. Maire (North African fungi); three collections of outstanding illustrations of plants and fungi made by Node-Veran (1773–1852), who was trained by de Candolle; and scores of botanical sketches, notes, and correspondences by different researchers.
Source: (http://www.aluka.org/page/about/partners/france_mpu.jsp)